It has been a while since anything new has been posted on our
Facebook page
or here on our blog. We've been busy – in fact, very busy. I will write separately about current activities. What I want to introduce now is a feature tentatively titled Blasts from the Past. This will focus on excerpts from seven years' worth of newsletters – and other sources. One of the goals of this feature will be to shed some light on what has been accomplished – and how it has been accomplished.
In the spring of 2002, when the first issue of the newsletter was published, we were approaching the 10th anniversary of the dedication of the American Home. Getting the home built was a major challenge. Most people familiar with the project – both Russians and Americans – didn't think it could be done. But that is another story—which you can read about on our website.
We are now approaching our 20th year of operation. One major question is how has it been possible for this small, underfunded by any reasonable standard, independent operation managed to stay afloat – and accomplish a great deal.
A major part of the explanation is that from the beginning there has been a very special linchpin on the Russian side – someone who has been there from the beginning. Someone who has stuck with the organization through a never-ending series of trials and tribulations. Someone who has found ways to do what needs to be done – even when that has seemed "impossible."
That someone is of course Galya Altonen – more formally known as Galina Petrovna.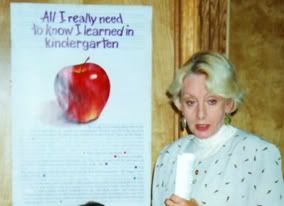 Galya was there at the beginning as the Director of the English program. Her comments below from the first issue of the newsletter allude to the challenges the first teachers and the Russian staff had to face and surmount.
In 1996 she took on full responsibility for the American Home's operations. (See the AH history information on our website.) And her husband, Alexei, accepted the position of Director of Special Projects. Together they have provided the foundation the AH's success has been built on. (More on Alexei later.)
While Alexei's contributions are often quite visible—e.g., the Street Ball tournaments and successful Criminal Justice and Fulbright tours—much of what Galya does that is essential to keeping the American Home functioning, like getting our educational license renewed, passing safety inspections, and much more, is less visible—but essential to our operations.
We need to acknowledge her behind-the-scenes contributions that make the visible successes possible.
For now, I want to say: "Galya, no words I can conjure can adequately express my gratitude for your commitment and hard work for now nearly 20 years. Without your efforts, we would not be enrolling more than 400 students in our English program, expanding our Intensive Russian program, providing substantial educational tourism services, and much more. Спасибо вам за все, что Вы делаете!"
Galya's Comments, AH Alumni Newsletter, No. 1, March 2002
Our dear teachers, dear friends:
It is difficult to believe that almost 10 years have passed since we had our first English classes at the American Home here in Vladimir. I remember very well our first year. We had only one computer and one pin printer, no textbooks, no Xerox machines. We had only enthusiasm--which is still our main moving force. We have been always eager to make the American Home the most informative and pleasant place, where people of Vladimir can learn everything about America.
A lot has changed during all these years. And mostly thanks to…our teachers.
Every year [they] have added something to our program. I remember all of [them] and the things each of [them] suggested to make our school better.
But if I start to write about everybody, it will take forever to read.
Now we have 4 computers only for the teachers, 2 copy machines, and access to the Internet. In each classroom we have a TV and VCR. We also have a CD player for each classroom.
[Those of you who have taught or studied here,] do you remember the room which we used to call "Stinky"? It's gone! Well, it is still there, but it has an air conditioner in it. We also have another air conditioner in our Big Room, where we have our meetings and parties.
Our library is also growing little by little.
Starting this year we have 7 teachers--and that is why the workload is a little bit easier. Each teacher has 4 groups and 2 preparations, except the teacher who works with conversation classes. But he works only 3 days a week.
What is most important is that we still have the creative and friendly spirit [the first teachers] brought which is especially appreciated by all our students. No wonder our Home is always full, even on Saturdays and especially when we have festive parties, presentations, or music and dance clubs. In February we celebrated for the first time Mardi Gras. It was fun!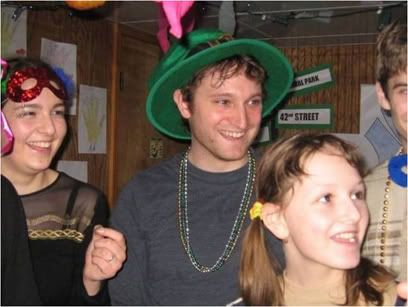 Celebrating Mardi Gras at the American Home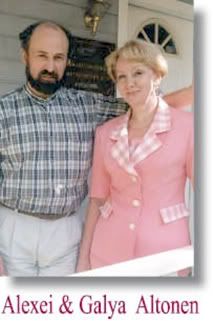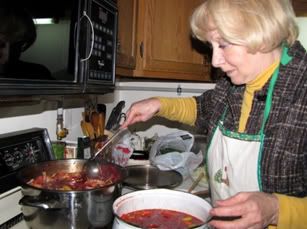 Preparing the first 'Russian Lunch' of 2010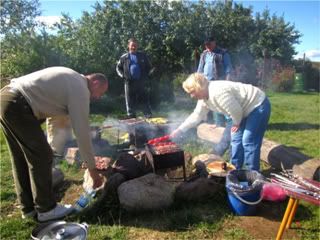 Grilling shashlyk at staff member Tanya Akimova's family dacha
First day of class, Fall 2009
Galya talking with Russell Pope, Ron's father; 4th of July celebration, 1999 (Russell provided more than $100,000 to cover things like the shipping costs for the AH project.)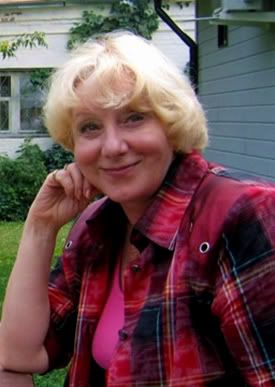 Galya in the Ah backyard, Fall 2010