By Austin Wallace, Spring and Summer sessions, 2009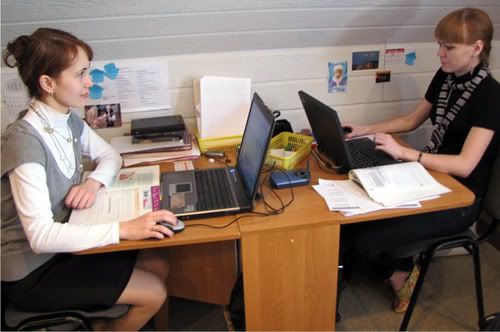 Lena and Olya at work in the AH
I thought I knew a lot about teaching English when I first arrived at the American Home.
After all, I had two years of experience teaching in Korea, and before that I had tutored remedial students in the U.S. By the time I arrived in Vladimir, I was adept at giving simplified instructions, explaining the differences between verb tenses, and even cracking jokes silly enough to transcend the language barrier. What else was there to know?
I found out how much I still had to learn the first time Elena (Lena) Belova critiqued one of my lesson plans. I quickly discovered that I could learn a great deal from her. My lesson plan wasn't terrible—it was student-centered, it featured activities that gave the students the opportunity to practice both the grammar and the vocabulary from the syllabus, and it had more than enough material to fill 90 minutes, just to be safe.
Lena took my adequate lesson plan and helped me make it exceptional. She had a number of suggestions—and she saw details that I never would have noticed.
For example, she suggested that I develop the unit on lifestyles by having the students compare their generation with that of their parents. In the wake of the immense changes in Russia, especially during the 90s, I'm sure you can imagine how fascinating the class discussions were. It was very gratifying to see Russian students so passionate about the conversation that they didn't seem to notice they were communicating in a foreign language.
Lena also provided me with an endless supply of realia which helped make my classes more engaging. For example, there is a cash register full of fake money, which is useful for reviewing numbers with beginning students. Teachers can also use the play money to hold Sentence Auctions, a great activity for reviewing grammar. To set up the game, teachers write both correct and incorrect sentences on the board, asking students to bid on the mistake-free sentences. (I knew about this game before coming to the AH, but being able to use the play money made it more fun for the students – and I probably would not have thought to look for this "prop" on my own.)
In my classes, the most useful type of realia was often the most straightforward. On the day I introduced vocabulary about personality traits, Lena showed me a folder of magazine pictures sorted into categories. The pictures I chose were mostly of models. During class I asked students to match adjectives like 'open-minded' with the model who looked the most open to new ideas and experience. By the end of class, an ordinary language exercise had morphed into a debate over why the virtuous characters in children's books are always beautiful, while the evil characters are usually ugly. Without the photos of the attractive models, this interesting, communication-enhancing discussion probably would not have been triggered.
Because she has worked as the materials librarian, Lena can probably suggest the perfect movie or article to complement what you're teaching. It was her idea to use Spanglish and Lost in Translation with my lessons on culture shock. Each of the video clips I used generated at least ten minutes of discussion. This included students who had been abroad comparing their own experiences with those of the characters in the films.
As valuable a resource as Lena is, she cannot help all the teachers at the same time. Fortunately the American Home also has Olya, an equally capable resource person whose help also was invaluable. While Lena gave me tips on, among other things, improving transitions between different parts of my lesson plans, Olya taught me about the arguments and evidence that support the use of various teaching techniques. When my students had trouble distinguishing voiced and unvoiced consonants, e.g., "dou
ble
vs. "dou
bt
," not only did Olya suggest listening drills with minimal pairs (two different words that almost sound alike, e.g.,
pat
and
bat
,
thick
and
sick
), she gave me a tutorial on the International Phonetic Alphabet and the physiological differences between Russian and English pronunciation! Her expertise reassured me when I had doubts about the rationale for using a certain activity, and she also inspired me to learn more about the
whys
of EFL teaching techniques, and not just the
hows
Olya's knowledge of applied linguistics is certainly impressive, but it's her empathy that I remember most vividly. No matter how great the students (and the American Home students are amazing), no class is going to be perfect. There will be problems which you will have to try to solve. It's difficult enough trying to communicate in a foreign language. When you combine that with different personality types and learning styles, among other things, at some point at least one student will be dissatisfied. Specific problems can range from students thinking they have fallen in love with you to some of them using too much Russian in class. My biggest dilemma was whether to pass or fail a man whose work schedule resulted in him missing more classes than he attended.
Without Olya's help, I don't know how I would have handled the problem. After talking to me, then talking with my student, Olya found a solution that gave him a chance to pass while not complicating my efforts to fairly determine my students' grades. I tutored the student individually for a week, after which he took the final—and passed, if just barely.
That student probably has no idea how much Olya indirectly helped him, but I have no doubt about how much she helped me.
Teaching at the American Home is an experience no one who has done it will ever forget.
It's an opportunity to explore a country rich in culture and history, an opportunity to create friendships that will endure a life time. It will also provide an opportunity to improve as a teacher – quite possibly improve a great deal.
Whether or not you plan on teaching as a career, the skills good teachers need are an asset in any field. For example, learning how to explain English grammar greatly enhances your ability to explain almost anything else. On a higher plane, in the same way that the best politicians inspire citizens whose hope has deserted them, good teachers inspire confidence in students who lack it. Good teachers can also make good public administrators, because in both careers success is measured by how much you've helped others.
With that in mind, I encourage everyone hired to teach in the AH English program to make the most of your opportunity to work with Lena and Olya. They are two of the best "teaching resources" I've met, and I will always be grateful for the progress I made as a teacher at the American Home, progress that, in large measure, I owe to their guidance.