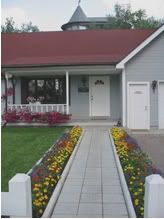 The American Home, Vladimir, Russia
The American Home in Vladimir was dedicated on the 4th of July 1992. Since then a great deal has been accomplished through this private undertaking. First and foremost is the Home's highly regarded English Program which has grown from 80 students and three young American teachers in the fall of 1992 to eight American teachers, one Russian teacher (for the beginning level classes), and two experienced Russian "teacher supervisors" working with over 400 students each term.
In addition to the classes offered, the English Program sponsors a lecture series, Saturday movies, and the celebration of American holidays. The American Home also regularly arranges workshops for area English teachers and hosts visiting English language students from surrounding communities.Besides teaching English to Russians, the American Home is also licensed to teach Russian to foreigners. The students study one-on-one with excellent tutors in the middle of the Russian heartland. (Please see the web site for additional information, including student comments.)
The American Home's other projects started with the acquisition and set up of donated playground equipment in 1993 at an orphanage and at a boarding school for deaf children. Since then, our "other projects" have included the initiation of a law enforcement exchange program; substantial assistance to the regional basketball program; and assistance to talented individuals seeking training in the U.S. In 2004, 2007, and 2008 the AH made all the in-country arrangements for three very successful four week Fulbright-Hays Group Projects Abroad programs for a total of 43 American K-12 educators through the University of Illinois and the University of Chicago. We are in the process of developing a high school exchange program based on the Fulbright foundation. (For more information, please see the main web site and the American Home's newsletters at: www.serendipity-russia.com/alumninews.htm)Other recent projects have included assisting a graduate of the Vladimir Juridical Institute who completed her Masters degree in Criminal Justice Sciences at Illinois State University in August 2006 and helping a very gifted young jazz singer receive training in the U.S. We also initiated and are providing substantial assistance to a major tourism development project. Initial funding for this project was provided by a Sister Cities International grant.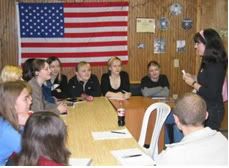 In addition to the above, we have established a loan fund for area musicians that has been used to help an accordionist purchase a new instrument to replace one that was stolen and has helped others produce CD's before concert tours. With the help of donations, we have assisted a Vladimir organization that provides counseling services and courses on "coping with life" for young people, their parents, and teachers; and we have provided significant teaching materials and equipment to the English program in the nearby community of Murom.We are making a major effort to follow through on the tourism project. In this connection, among other things, we have prepared a map of Vladimir for tourists in both English and Russian, and we are continuing to develop an English language web site for the City of Vladimir (www.vladimir-russia.info). We have initiated an effort to organize discounted package tours. And we are completing work on a history of the region for tourists, and pursuing several other related projects.

The American Home was conceived in 1991 as a project that would contribute to Russia's transition to a stable pluralist system. Dr. Ron Pope, a now retired professor of Russian politics at Illinois State University and founder of Serendipity-Russia, hoped that the Home would open the door to trade and investment that would benefit the people of Vladimir. At the same time, he wanted to pursue other projects that would help make the transition between the initial "revolutionary" changes and eventual stability.Over the ensuing years neither trade nor investment has come easily to any part of Russia. It is hoped that the tourism project will contribute to economic development. At the same time, the American Home will continue its efforts to "make a difference" through its other projects, including its English and Russian language programs.


American Home dedication, July 4, 1992
For a published article on this one-of-a-kind project, see: http://www.pantagraph.com/articles/2008/04/11/life/doc47ff79063b273005578180.txt